Develop communication skills that bring out the best in you — and in others.
---
You know that you and your team could perform better, reach your goals faster, and simply enjoy working together more if you could leverage your strengths, communicate more effectively, and collaborate seamlessly to achieve powerful outcomes.
Attend the live 1-day Communication for Leadership Success workshop on May 9, 2020 so you can become the leader everyone admires, values and supports.
---
GO TO PRICING & REGISTRATION
---
Take advantage of our 36+ years experience of climbing the corporate ladder and 126,000 hours of coaching leaders. Plus, we always fill out our events fast, so claim your spot now.
Companies we serve:

---
---
"Your ability to communicate with others will account for fully 85% of your success in your business and in your life."
- Brian Tracy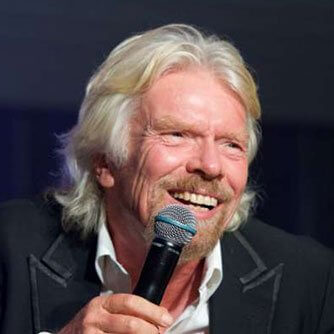 ---
"Communication is the most important skill any leader can possess."
- Richard Branson
---
"Without good communication skills you won't be able to convince people to follow you even though you see over the mountain and they don't."
- Warren Buffett
Wouldn't work be great if it weren't for the people? 
We all thought this once. (Or too many times) 
So you may be stuck with a boss who constantly criticizes you, unloads unrealistic expectations on you, is a control freak, or just plain incompetent. 
Surely there are a couple of coworkers who drive you insane due to their gossiping, bullying, or backstabbing. 
You may even have a few employees who make you want to punch a wall, or them (unfortunately that's a big no-no).
And who hasn't had clients they'd like to strangle because they're nitpickers, know-it-alls, or are just never ever satisfied with anything.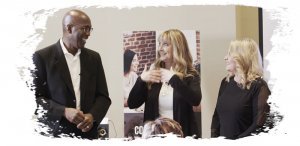 We've felt your pain and experienced all of this ourselves in our 35 years climbing the corporate ladder from the bottom (being a busboy surely is the bottom) to the top executive levels.
During that time we've heard and witnessed loads of disaster stories. 
But whether you have a dream job or a nightmare is up to you.
"Up to me?" you ask. 
"What are you talking about?! My bosses and employees are the ones who are the problem." 
Yes, they probably are. 
But with this profound and learnable communication strategy, you can change the way people treat you, increase your happiness, and boost your chances of getting ahead. 
It won't happen overnight, but we'll share a plan / strategy that you can start using the minute you walk into work tomorrow morning. 
And no… 
You DON'T have to be extroverted to be an effective communicator and successful leader.
You don't need some natural ability or talent. 
And you certainly don't need to keep on doing what you're doing, just better. 
What you do need is to focus on the one thing that ACTUALLY builds success. The thing that helps you get buy-in, garner trust, inspire loyalty, or even have those difficult conversations…
...Leadership Communication.
Through real-world compelling case studies and engaging exercises you will learn strategies to enhance your communication skills so you can approach others in a way that ensures your message is being received the way you intended.
In the workshop, you'll discover our from-the-trenches approach to not only bringing out your full potential, but also…
Learn how to get people to work with you, eager to support you, and champion your cause.
Develop self-awareness of your personal communication style and its impact, so you can be sure the message you deliver is received the way you intended.
Identify the varying communication demands of different stakeholders.
Receive specific and practical feedback on your personal communication style.
Start developing a pleasing personal style (Signature Branding).
Develop the same mindset that the most remarkable and highly admired leaders have.
Create allies in achieving results so you never again feel alone and unsupported in high pressure situations.
Know how to motivate employees and inspire them to action.
Set up your superiors & subordinates to do what you want and need.
Learn the delicate art of constructive feedback and how to use it to drive the right behaviors for greater team performance.
And you can also apply this to all of your other relationships, especially with your spouse and children. Because ultimately you are aiming for success so that you can live a fulfilling and harmonious life, not to have ongoing arguments with your spouse, or being able to relate with your children because you're never present.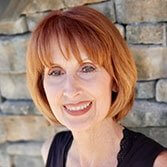 ---
"Jesse Ferrell, Lisa Ferrell and Lisa Ulshafer presented a Color Code Class last Saturday. I attended and didn't know what to expect. I had one thing in mind I was looking to overcome. I hoped what I learned in this class would help me. WOW! I was blown away at what I learned. 
After class that day, I felt like I had the missing link that would catapult me to the next level and it did! I took the tools and used them right away and had a huge success. Able to solve a 10 month situation that had caused me a lot of stress..GONE! 
"I am a doer, and willing to use the right tools to move forward and this class gave me the direction and tools. I feel so motivated to continue studying this communication method that I have signed up for their 3 month program to continue moving forward. I also signed up my husband for the January class.
So glad I went and I recommend anyone having challenges with communication and people stuff, take the class!"
- Carolyn Vanzlow-Edgar, Back to Basix Exercise Therapy
---
---
"Communication is a skill that you can learn. It's like riding a bicycle or typing. If you're willing to work at it, you can rapidly improve the quality of every part of your life."
---
---
So what if…
Making your boss respect you, colleagues more congenial, and  employees more dedicated isn't as impossible as it sounds? 
What if you can adopt this rare ability to communicate effectively with everyone?
What if you had a way to encourage the people you work with to open up and thus pave the way for them to truly listen to you?
The thing is - to communicate deeply and effectively with colleagues and bosses, they need to feel you understand and respect each of them individually. 
If you accomplish this…
You can have the admiration of everyone in the company. 
You can turn employees into supporters, colleagues into friends, bosses into allies, and leads into clients.
And you can gain the recognition, income, and fulfillment that has been eluding you, and eludes so many others.
You've witnessed others achieve this, so you know it's possible.
Because this workshop and strategy is built on real life case studies with drastic results, we know that it's possible for everyone.
REGISTER FOR THE WORKSHOP
---
Click to check out the price and the details.
---
You'll learn practical techniques to shape your leadership messages, hone an authentic leadership voice and engage in powerful conversations that achieve results.
Why it matters
---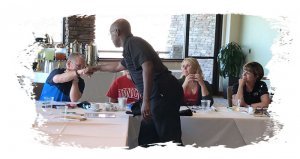 The fact is…
As a leader you are communicating all the time, even when you're not talking. 
You are observed and assessed at every step by your bosses, colleagues and employees.
Building self-awareness about the impact you have on those around you is the foundation you need BEFORE you can implement all the communication tips and tricks most books, courses and videos teach you. 
If you aren't a great leader, YOU'VE GOT A SERIOUS PROBLEM. Because poor leaders cost the company time, people, and money.  
On the other hand…
Great leaders impact everything for the better:
Great leaders motivate and inspire their people, creating alignment around a shared vision, purpose, and goals.
Great leaders drive increased employee engagement, satisfaction, and retention, while improving performance and productivity, and delivering bottom-line results.
Great leaders create a positive culture built on trust, collaboration and continuous learning, which helps attract and retain the best talent.
Through a facilitated discussion and real-life case studies you will understand and be inspired by the principles of successful leadership communication. 
And then through interactive exercises and personalized feedback, you will put all of the elements into practice so that you can truly embody your personal style of leadership communication.
REGISTER FOR THE WORKSHOP
---
Click to check out the price and the details.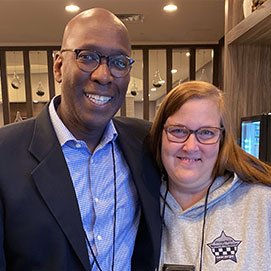 ---
"I lost a daughter to suicide five years ago.  Jesse's keynote message on 'GRASP the Connection' was definitely a huge moment of change in my life. I'm so grateful for it. Everything in his talk was just tailor made for me and it gave me so much more hope, joy and zest for life than five years ago that I would have ever thought could've been possible." 
- Cindy Lyons-Phillips, Chicago Police Department
Results
---
Our client Tony learned to dramatically improve the quality of his communication as he learned to speak the language of those most important to him, including his boss, wife and kids! As a result, he saved his career and his marriage.
Our client Cindy found fulfillment and joy in her personal and professional relationships and is now making a high six-figure annual salary after going through 6 marriages, 3 major job losses and 2 failed businesses.
Our client Beatrice successfully launched a seven-figure marketing company by successfully breaking through her old barriers to success and providing her the leadership development training that had been missing in her career.
---
Our client Jim's wife said she felt like she got a brand new husband after he learned how to manage his work AT work and stopped complaining about the breakdowns throughout each day. He found the balance he needed to create a harmonious home and work life.
---
Our client Jim was promoted to Senior Vice President of a multi-billion dollar company. He was rewarded with great fringe benefits, a 40% increase in his 6-figure salary, attractive stock options, and an unbelievable retirement package after diligently and consistently doing the work. 
---
Our client Poppy was recruited by one of the most highly regarded government entities and is thriving both on and off the job after entering our program feeling broken, lost, and ready to quit her high 6-figure job as the Senior Vice President of Facilities in the health field.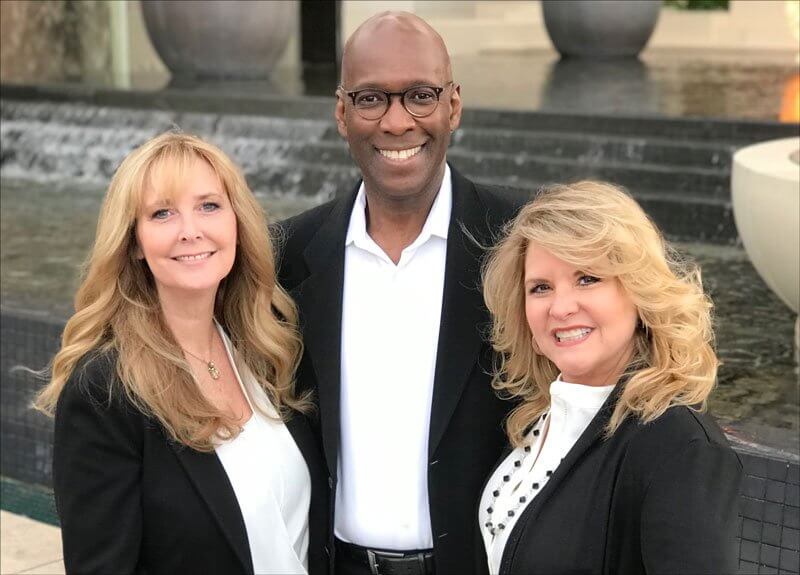 ---
Jesse & Lisa Ferrell and Lisa Ulshafer
---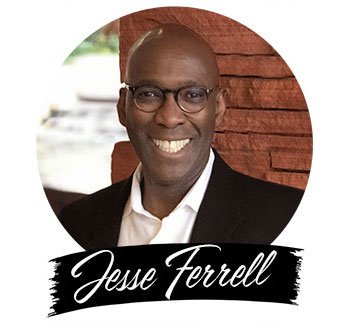 Jesse went from being a busboy to becoming the Executive Director of Casino Marketing at the Flamingo Hilton, Harrah's Las Vegas Hotel & Casino, and The Hard Rock Hotel & Casino. Now that's one hell of a climb! 
Of course - this wasn't an easy journey. When you get promoted they may hand you a job description, but no one gives you the bottom line on the difficult people, cliques, and complicated corporate culture. 
Plus, in his time there was no Google, YouTube, online courses, or quality workshops… he had to figure it all out by himself through trial and painful error. 
Jesse looked successful on the outside, but he wasn't fulfilled on the inside.  After discovering that leading, guiding and directing others were directly connected to his life purpose, Jesse obtained his coaching certification from Coach U and gained mentorship for growing his professional speaking from some of the greats like, Brian Tracy, Jim Rohn, and Dennis Waitley. 
This drive to study successful people helped him build his own holistic framework for success that he then continued to refine and successfully apply to his coaching and speaking clients (which he has spent 126,000 hours serving).
He gives credit for the writing of his first best selling book "How You Leave Them Feeling" to his 36 years spent rising up the ranks in hospitality while practicing his love for the hospitality industry.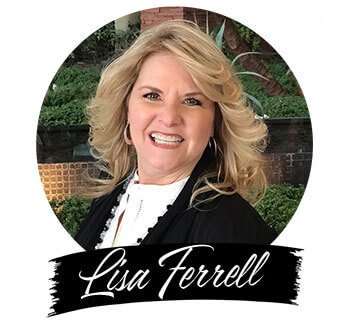 His partner in business and life, Lisa Ferrell, brings 35 years of broadcast radio, television,  and outdoor sales & marketing advertising experience. Lisa managed this extremely challenging and often toxic professional world while single-handedly raising three children.
During the last stop of her illustrious career, which she thought was going to be the best in her career, she ended up being in a highly toxic environment. It was filled with INEFFECTIVE COMMUNICATION to the point of being harassed by her boss which put her on the receiving end of relentless screaming and abuse.  
Lisa went on a personal discovery journey, attended many seminars and workshops, read countless best selling self-help books and hired a powerful Master Life Coach to help restore and advance her life. It was here that she discovered her purpose and built the bridge to leave her Corporate position. It was a natural fit. 
She has since spent 96,000 hours coaching women to navigate their careers and lives to a point where they are fulfilled, admired, valued, and fairly compensated (not to mention fairly treated).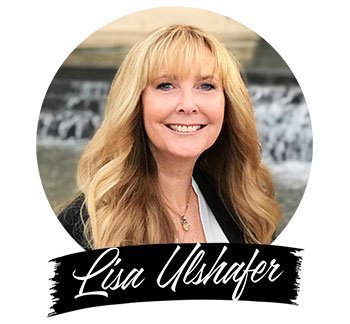 With a bachelor's degree in psychology, six extensive life coaching certification programs, and 80+ trainings under her belt, Lisa Ulshafer has been serving as a master coach and mentor to individuals, couples, and families since June of 2006.
After attending so many workshops and training, you can bet that Lisa knows extremely well what constitutes a great workshop. That's why you can be sure that with her help, both on the backend and front end, this workshop is going to be ah-mazing!
Oh and her life story... it's nothing short of incredible!
She survived a 12-year abusive relationship and came out of it as a single mom, being both sole parent and sole provider at the age of 34. At that time, she owned her own business and felt stressed and overwhelmed as she struggled to make ends meet. What was at the heart of her challenges were feelings of isolation, emptiness, and lack of fulfillment.
In 2004 she immersed herself into a period of profound transformation and changed her life forever.
She now assists people in creating a stronger mindset, achieving greater emotional well-being, and taking progressive action toward living an empowered life. By clearing self-sabotaging patterns and healing emotional wounds, her clients have turned their emotional struggle into per­sonal strength.
Together, they are on a mission to empower and inspire leaders to live their highest vision, unleash their full potential, and gain the recognition, income, and fulfillment they deserve.
1000's of previous workshop attendees have given us a

rating!
What successful leaders say about us:
---
---
"When you put the powerful, proven insights from Jesse's book into action, you will be a more effective person, and get more done in every part of your life. Your future can be unlimited."
- Brian Tracy, Professional Speaker, Best Selling Author & Consultant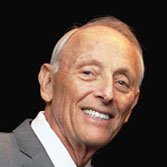 ---
"Jesse was the best keynote speaker I have heard in my 49 year history at Pro Chem. I appreciated the time he took prior to the engagement to get to know key members on our team. It was the difference maker in delivering his keynote. Many of my employees said they felt like Jesse was talking directly to them. His talk moved us. Jesse is a man after my own heart!" 
- Warren Alifeld – Founder, Pro Chem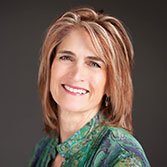 ---
"Lisa Ulshafer is an outstanding speaker. She has a way of inviting us into a conversation with warmth and ease while enlightening us and carrying us graciously into her story. I could have listened to her for hours."
- Jani McCarty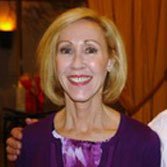 ---
"Lisa Ferrell showed amazing and rare vulnerability in her speaking style. The stories she shared about raising her children as a single parent were very inspiring. She related those stories to how she helps her clients with the same direct, no-nonsense yet loving approach. I will use this for myself and within my company and staff. Thank you."
- Beth Bombard-Culver
5 Key Principles You'll Learn
---
Throughout these principles, you'll be learning about the Color Code, a personality assessment that's the perfect tool to help you develop and improve your communication in a powerful way.
The Color Code uses motive as the principle means of identifying personality. In fact, we call it the Driving Core Motive.
Once you take the assessment after registering for the workshop, we will help you focus on these 5 key principles:

   Discover and focus on the Driving Core Motive.
---

Use color to connect. Discover and learn the four core colors and how to quickly identify them in others, making it easier to create a connection.
---

Understand every aspect of yourself by knowing your colors: your strengths, your limitations, and your wants and needs. The more you understand yourself, the more you live authentically and feel more comfortable in your own skin.
---

Master the art of awareness. Becoming aware of your native strengths within all four colors and your limitations within all four colors is life changing!
---

Clean up your character and take the steps necessary to bring out the best in your character. When you understand those limitations that have been taking a toll on your character, you can now work on cleaning them up through the exercises you'll receive in the workshop.
---
Basically… Get Self, and Get Others! 
These systems, tools, and processes will help you to grow a powerful communication style while increasing your emotional intelligence.
REGISTER FOR THE WORKSHOP
---
Click to check out the price and the details.
Here are the details:
---
Here are the live event details for the Communication for Leadership Success:
DATE:  Sat, May 9, 2020
REGISTRATION:  8:00am - 8:30am
EVENT TIME:  8:30am - 4:00pm (lunch included)
LOCATION:  JW Marriott, Las Vegas, NV
AFTER YOU SIGN UP:
You'll you'll receive a link to take your very own Personality Assessment (value $40)
At the event, you'll receive your own personalized workbook with your complete results printed inside
We're going to deep dive into your results so you can leave with a thorough understanding of what your assessment results mean for you
Buffet Lunch
Early bird investment with $30 discount:
Only
.
197
167
(discount ends April 25th)
Join 1000's of previous attendees who loved our edutainment approach and gave us


---

---

We always fill our events fast, and because seats are limited claim your spot now. Take advantage of our 36+ years experience of climbing the corporate ladder and 126,000 hours of coaching leaders.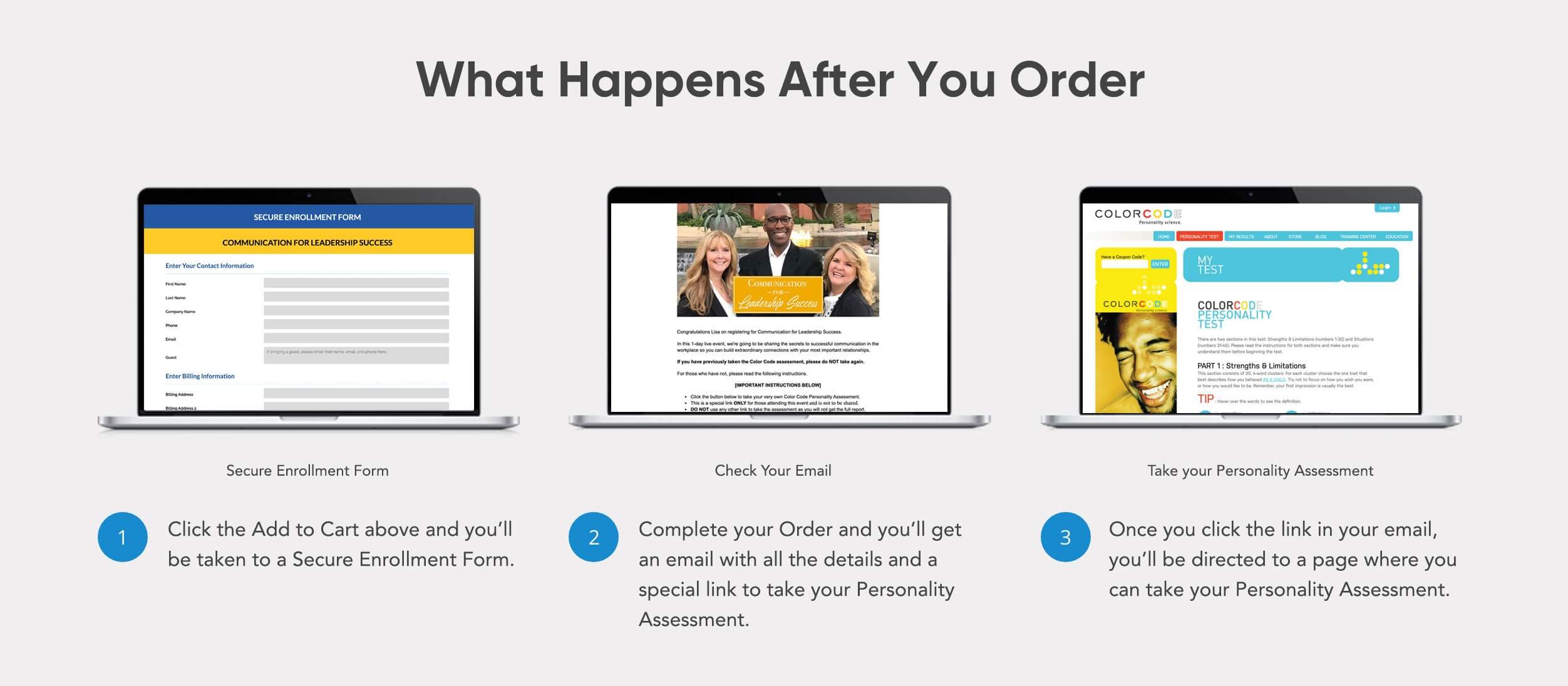 FAQ
---
Is this going to be another boring corporate workshop?
This training is not typical or boring. Jesse is known for his edutainment style of entertaining while educating. 

Jesse engages his audiences with dialogue not a monologue. 

Lisa Ulshafer & Lisa Ferrell each bring their unique style of connecting with audiences on a deeper level.
The number one request we get after our full day events is that they wanted more time because the day flew by. Our personal and professional brand is to always leave you wanting more.

Hear what Sondra has to say:
Why would I want to do another Personality Assessment when I have already done others in the past? 
We have tested  over a dozen of the top personality assessments and we chose to use The Color Code Personality Assessment for the following reasons:

It is easy to understand
It is easy to implement the personality science right away

It is easy to remember

It has been a game changer in our relationships and in the lives and relationships of others we have shared this intelligence with
Hear what Natasha & Sondra have to say:
What else is included in my ticket price? 
Lunch with a wide variety of food choices
The Color Code Assessment
Your own Personalized Color Code Workbook 
Three highly experienced Master Coaches 
How is this workshop different from others on the market?
There are countless leadership programs on the market today that claim to help you with relationship building.

We chose to design an entirely new offering, based on empirical data drawn from real life professional relationship breakdowns that we were called in to help repair over the past 36 years.

Simply stated, our communication strategy was born from observations and extensive experience!