"Global clients declare that our speaking style moves you in more ways than one"
In our keynote and workshop sessions, we introduce audiences to key relationship principles that provide the genesis for them to "get" themselves and ultimately for them to "get" others! We help our audiences learn the best tools, systems and processes affording them the bandwidth to build high-quality sustainable personal and professional relationships!
All of our speaking programs are designed to be fully customized to fit you and your company.  The length of each program may be as short as a 30 minutes, one – four hours, full day programs or multiple-day retreat style offerings.
I have had the pleasure of having Jesse work ith three of my teams through the years and he has over delivered for ech and every one.  He facilitated an executive committee retreat, on another he delievered a fantastic presentation to improve our VIP execution and lastly he was the Keynote Speaker for a Leadership Summit that became a Corporate Best Practice. Bill Wright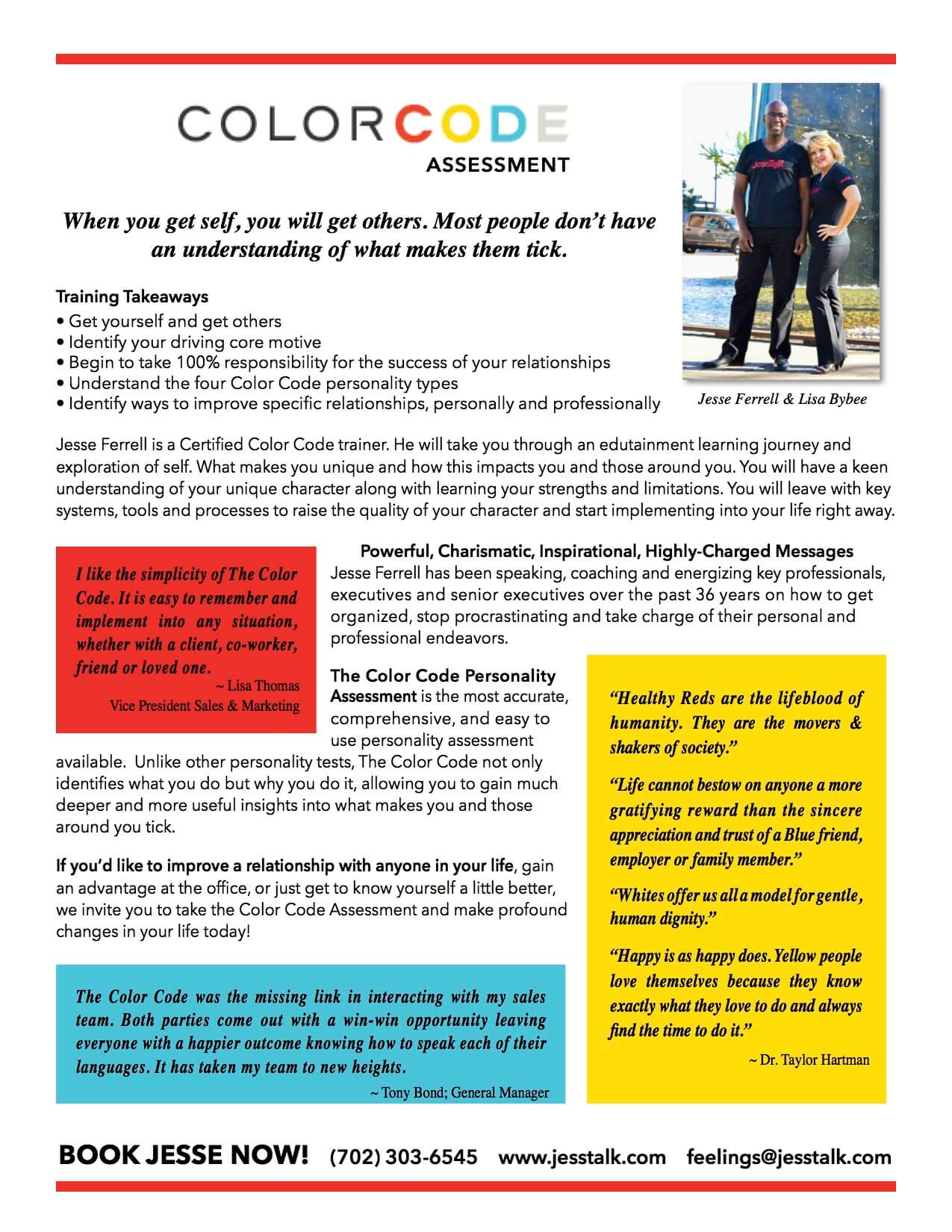 Jesse & Lisa are certified color code personality assessment trainers
Mastering The Art of Relationships
The key to learning how to create and build positive, meaningful, joyful and sustainable relationships start with truly knowing yourself first and how you show up. We start our connection with you and your company by requesting the completion of the Color Code personality assessment. When you get self…you get others! Your best life balance and work excellence is dramatically improved through the quality of your relationships.
R.E.A.C.H. For Leadership
Clients like our style of leading leaders in a world of shifting priorities. Our R.E.A.C.H. for Leadership program focuses on what matters most Responsibility,Engagement, Accountability, Connection and How You Leave Them Feeling! The main focus is centered around poweful communication growth and raising the bar on your leadership style!
G.R.A.S.P. The Connection
The G.R.A.S.P. theory will help you learn how to maximize your value in the preparations stage. It stands for Getting Ready, Attitude, Signature and Passion. Our clients love this program for how it offers insight into how to best manage themselves as well as internal and external customers.
Contact Us
If you are interested in hiring The Firm to deliver a powerful keynote, workshop or training program for your next event please complete form on this page. Include sense of urgency and who's the targeted audience.
Call
855-JESS-TLK
855-537-7855